by Inside Small Business
CaSE & Pike Design is the design arm of parent company CaSE that offers engineering services for complex bridges, such as analysing their stability during construction. As Technical Director, Florian Dieterle has technical oversight over the various infrastructure design projects and is ultimately responsible for signing off any in-house bridge designs.
As with so many other businesses, Florian's biggest challenge in the last 12 months has been staff attraction and retention – characterised by a lack of candidates and 'The Great Resignation' – while handling projects with tight deadlines. "To overcome this, I transformed my management style from being project-focused on meeting deadlines to a more people-based approach focused on development of the people," Florian says. "We also introduced the role of 'team leaders' focused on the development of the team members, as opposed to 'project managers' focused on managing projects."
Taking the time to understand the career goals of engineers, fostering open communication and regular engagement have promoted personal growth and enjoyment among CaSE's employees. "This shift to a people-centric approach has yielded significant benefits," Florian avers. "It has fostered better collaboration, higher employee satisfaction, increased employee retention and, most notably, better project outcomes. By embracing this transformation, I successfully managed staff shortages while effectively delivering demanding projects with tight deadlines."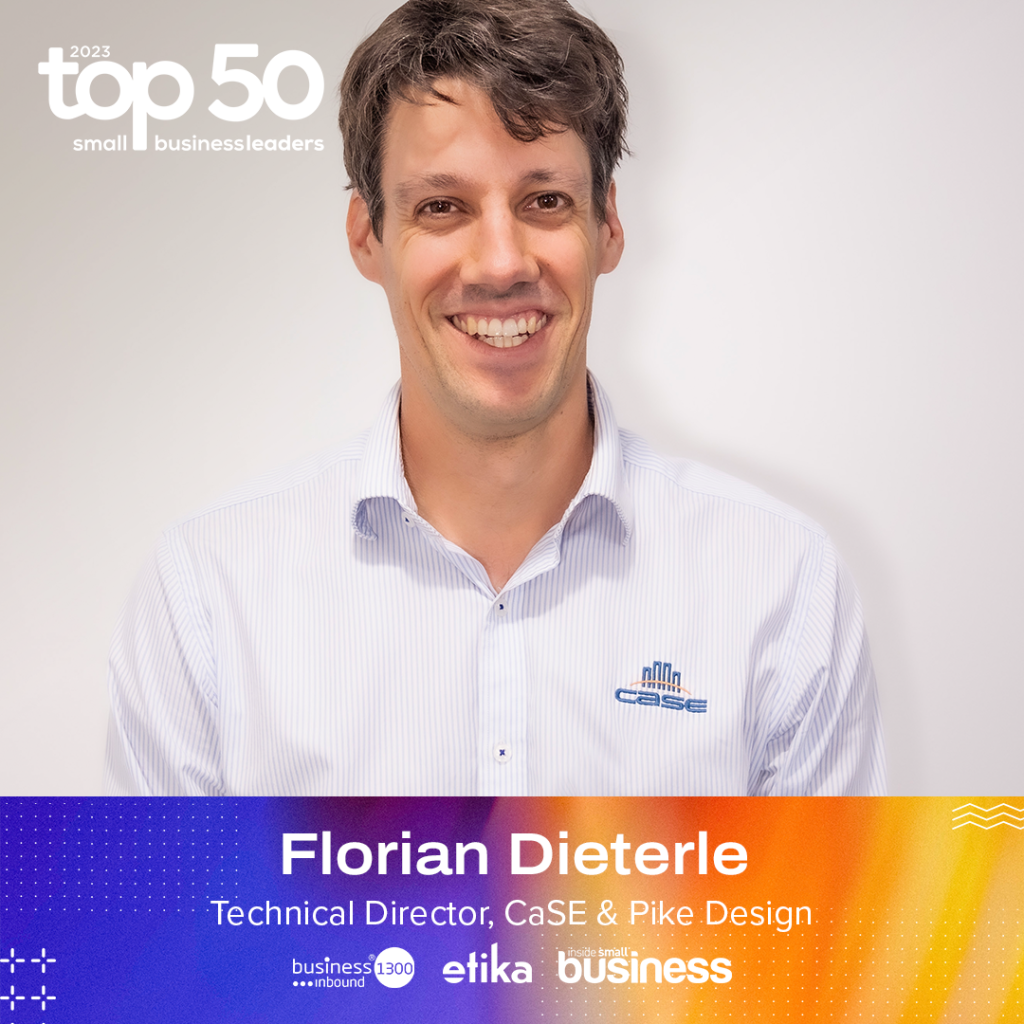 CaSE's most important recent innovation has been the integration of Building Information Modelling (BIM) technology. "This shift from traditional 2D plans to 3D (and even 4D) models has revolutionised our approach to designing projects," Florian explains. "Through BIM, we have seamlessly co-ordinated with other disciplines, utilising their 3D models for collaboration."
By leveraging 3D scanning, CaSE has successfully imported existing building shapes into its models, enabling a comprehensive understanding of the construction sequence and identification of potential safety hazards. The innovation has greatly improved clients' comprehension of the projects, enabling effective decision-making and risk mitigation.
"Moreover, BIM has become our preferred tool for documentation, supporting the entire project lifecycle from concept to manufacturing," Florian adds. "We utilise the 3D models to create detailed animations and interactive fly-throughs, allowing stakeholders to navigate the structure like a virtual computer game. This immersive approach enhances communication, facilitates better project visualisation, and streamlines the documentation process. As always, tools have to be fun to be used by people."
The business is focusing on minimising the quantity of material it manufactures, by reusing existing materials. "By creatively brain-storming on reuse of materials already available, we have significantly reduced waste and resource consumption, contributing to a more sustainable approach," Florian says. "For example, for steel towers to support a bridge during construction, we developed a modular system that could be adjusted for different locations and future projects. This practice not only reduces the demand for new resources, but also promotes the circular economy and minimises waste generation."
To demonstrate its dedication to responsible sourcing, CaSE has also taken a firm stance against the use of hardwood from rainforests. "By opting for sustainable alternatives, we contribute to the preservation of precious ecosystems and promote the use of environmentally friendly materials in our projects," Florian enthuses. "On a personal level, I have encouraged environmentally friendly practices within our team. I have adopted cycling as my mode of transport to work, reducing carbon emissions and promoting a healthier lifestyle."
The business actively seeks partnerships with other small businesses to provide comprehensive solutions beyond each organisation's individual capabilities. "By combining our expertise with that of our partners, we deliver holistic services that cater to diverse client needs," Florian says. "These partnerships also serve as a strategic approach to prevent market dominance by larger corporations. Working together with fellow small businesses enhances our collective strength, promoting healthy competition and supporting the growth of the local economy."
The content above is reposted from Inside Small Business and is the work of their talented team. To learn more about the Top 50 Small Business Leaders Award and discover additional insightful articles and resources, please visit Inside Small Business.